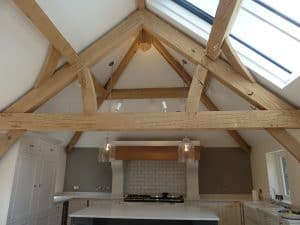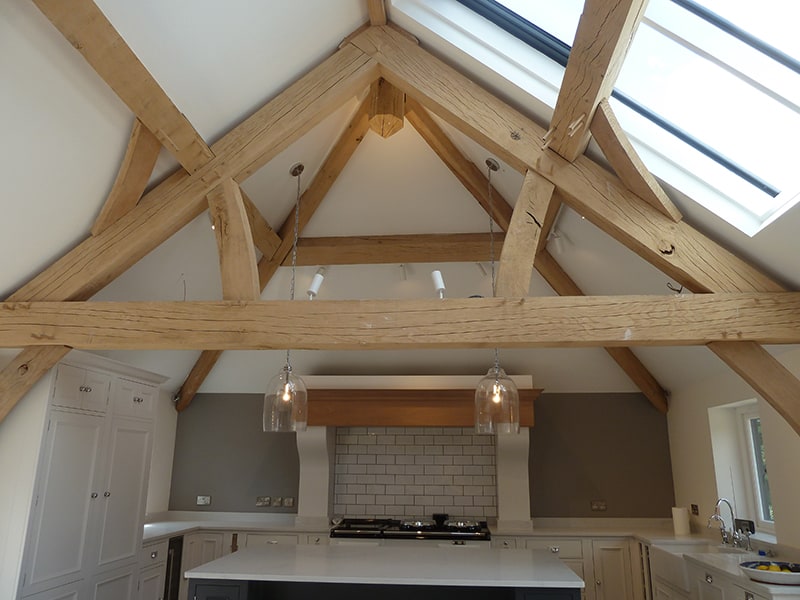 Excluding elegance, style and character an Oak roof truss or feature truss adds the "wow" factor to any new build or extension.
An oak roof is formed with trusses and purlins which are the visible and dominant feature transferring the weight of the roof onto the walls.
A Feature Truss adds the style and "wow" but does not necessarily form part of the structure.
All Trusses come in many different forms, performing different functions and creating different looks within your living space.
Discover the Different Types of Oak Truss Design
King Post Truss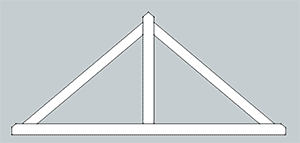 A classic functional roof truss.
The king post is the large central post running vertically up to form the apex of the truss, it can incorporate weight bearing struts or not.
The tie beam carries the weight transferred by the king post easily as it is working under tension.
Often employed at the gable end of the building where cladding or glazing is to be installed or where it is unlikely that a second floor would be required.
Queen Post Truss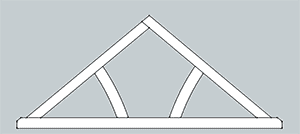 Queens posts trusses have a pair of symmetrical posts on either side of the truss linking the principle rafter to the tie beam. Often these are positioned in-line with a purlin run to transfer the load down to the tie beam.
They can be used with or without a king post or collar.
Queen posts are traditionally curved, but this is not compulsory.
Queens positioned towards the outside of the truss will create the perfect opportunity for usable space in the attic.
Raised Tie Truss
A raised tie truss is simply where the tie beam positioned above the bottom of the principle rafters
Tie beams connect the bottoms of the principle rafters horizontally, tying them together and preventing the roof from spreading.
Raising the tie will put significant strain on the mortice shoulders which must be cut carefully to cope.
A raised tie will help you to create more headroom above eaves height, this is useful where the ridge height cannot be changed.
Half or Mono Truss
As the name suggests this is one side of the truss.
Often incorporating half the king and queen posts if the span requires it, or that style is desired.
Half trusses are used for lean-to style extensions or garden rooms.
Hammer Beam Truss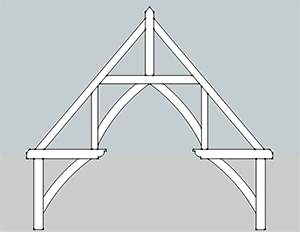 A medieval design driven by thrift which now creates a serious wow factor.
A truss made out of 2 standard principle rafters braced by a system of triangles transferring weight and giving rigidity without a tie beam spanning the building.
The interrupted tie beam means height in the room is maximised.
Can be particularly dramatic in single storey kitchen extensions or swimming pool houses.
Wind Braces
Oak Braces are essential for the rigidity of the Oak frame structure, they limit flex in a frame by connecting pairs of beams in the corners forming an inflexible triangle.
There is always a minimum number of braces required in each Oak frame determined by the design. However, if you are building against an existing building a lot of the normal flex in the frame is minimised but you may still wish to add braces simply because they look nice.
Traditionally braces were made out of branches and therefore curved. Today we cut the curves for aesthetics however straight braces will do exactly the same job, just a little cheaper!
Cruck frames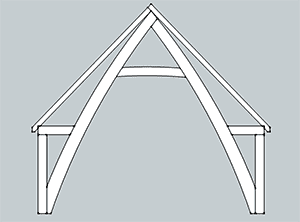 An Oak hungry truss with serious "wow"!
The Cruck is a largely curved beam cut from a curved tree used in matching pairs on either side of a building. As with all traditional designs, there are many variations.
Medieval structures often found in churches.
Understanding an Oak Truss
All roof trusses perform the same functions, but in different ways:
The principle rafters set the pitch of the roof, carrying the ridge beam and purlins which in turn take the weight of the rafters and tiles.
Tie beams connect the bottom ends of the principle rafters, tying them together and preventing them from spreading or pushing the walls out.
King posts transfer loads from the ridge to the tie beam.
Queen posts transfer loads from the centre of the principle rafters to the tie beam, they are particularly effective fitted underneath a purlin.
Collars join the principle rafters at a higher level to help to stop them spreading.
Calculating the Structural Loads on Oak Roof Trusses
In days gone by carpenters would use their experience to choose section sizes and joint details to appropriate for the structures they were building.  Today you will need to have your frame design signed off by a structural engineer, they will specify section sizes and timber grades. Timberpride will supply your frame to these agreed dimensions with CE certificates of structural performance to THa, THb, Th1 and TH2, D30 and D40 in accordance with BS 5756. Not as romantic as the old days, but probably more reassuring!
Pricing for Oak Trusses
The cost of an Oak truss can vary enormously, a simple functional truss can be really cost effective, the more complex and embellished the truss the more it will cost but the more it will take your breath away. Every roof is unique, starting with a blank canvas we can create the perfect balance between the aesthetic and the fiscal.
Get in touch
Keep reading to find out more about how we could help or call Alec, Victoria or Kim to discuss your oak truss requirements
Why Buy Oak Trusses from Timberpride?
An Oak specialist family business, built over 23 years by founding directors Alexander and Victoria, we are proud to be making fully hand crafted Oak frames here at Timberpride in Tetbury.
We are a small and genuinely friendly team of people, passionate about working with oak, be it in the forest, on the sawmill, oak frame carpentry or the person on the phone.
Oak gets under your skin, the Oak forest is intoxicating, the smell of freshly milled logs the character of the living material.  We believe combining modern tools with traditional hand skills to scribe each joint, knowing how to read the timber, understanding how it will respond to the jointing, orientation within the frame and of course the structural integrity of each piece whilst creating your very own unique frame is the only way to do it properly.
Our carpenters use skills and judgment passed down through the generations to make your frame, we encourage you to come and meet us at work here in Tetbury to put names and faces to those who made your Oak frame.
When you start loving Oak you'll want to know more. Each tree we use has been growing for over a century, where did it come from, what was happening when it started to grow?  We choose each and every stem in the forest before bringing it to Timberpride, we think that's special. We want you to understand the journey it has been on before it starts its new life as part of your home. This new relationship can last for many hundreds of years, so the introduction is important.
The Ordering Process
We are happy to talk to you no matter what stage you are at with your project.  We can help you design the space, taking into consideration your desires and ideas and also site constraints, such as ridge height, truss choice and room span.
If you already have designer's or architect's drawings we can produce framing plans specific to the frame all other details omitted so the frame design can be agreed.  If all you have is your own pencil sketches we can work with that too!
Once you have settled on the design and it has been signed off by a Structural Engineer we can process your order.  Typically your job starts when the specification for structural timbers goes out to the sawmill and the logs are selected for milling.  Every frame we make is unique, depending on size and level of detail required determines the length of time it takes the carpenters to make it, however long that is our own oak frame carpenters are dedicated to your project until it is complete.
Delivery of Oak Trusses
The completed frame is normally dispatched in component form for ease of unloading.  It is equally possible to dispatch assembled trusses to site, however, it is normal to have a crane on site for unloading.
Share your ideas to today with Alec, Victoria or Kim email hello@timberpride.co.uk
Contact Us to Get More Advice About Oak
Timberpride Limited, Quercus Road, Tetbury, Gloucestershire. GL8 8GX.
Contact Us to Make your Dreams Come Alive