Extend Your Home with an Oak Framed Extension
Oak frame buildings are so much more than one of the most ecological, beautiful and durable structures money can buy. They are exceptional value for money compared to most modern construction techniques. Creating an organic living space from natural Oak, something we humans have been doing for thousands of years.
Timber frame extensions can be cutting edge modern or Tudor traditional, with every conceivable combination in between. The ability of our oldest building material combined with techniques perfected hundreds of years ago to create living structures perfectly suited to modern life is nothing short of astounding. Ask anyone who has had their lives enriched by a contemporary oak frame.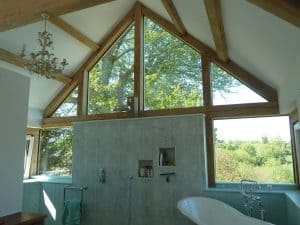 When you love where you live but just need to create extra living space an Oak Frame may be the perfect solution. Much more than just making your home bigger, an Oak framed extension will add beauty, light and character to your home. The natural warm honey colour of Oak sits perfectly with all lifestyles, modern minimalistic, traditional and everything in between.
An Oak Framed Extension Adds the "Wow" Factor to your Home
A fabulous way to create the walls in your extension is to glaze the Oak frame, flooding the room with light, highlighting details of the frame throughout and framing your very own vista.
Some walls need to be solid, Oak cladding is a natural choice creating a solid wall with superb insulation and keeping all the beautiful oak beams of the frame, curved wind braces and hand cut joints visible on the inside, including the carpenter's marks and pegs.
Now add a roof formed with Oak roof trusses, purlins and braces, the whole structure on show for you to admire and lose yourself in for many years. Your oak extension is sure to add space, charm and interest and it will be unique to you.
Enrich your life with a living Oak Frame Extension adding the "wow" factor and value to your home.
Contact Us to Get More Advice About Oak
Timberpride Limited, Quercus Road, Tetbury, Gloucestershire. GL8 8GX.
Contact Us to Make your Dreams Come Alive