Our organically designed oak coffee tables, hand crafted, making sustainable use of  naturally characterful oak boards and structural oak pieces, creating a strong architectural style with visible hand cut mortice and tenon joints.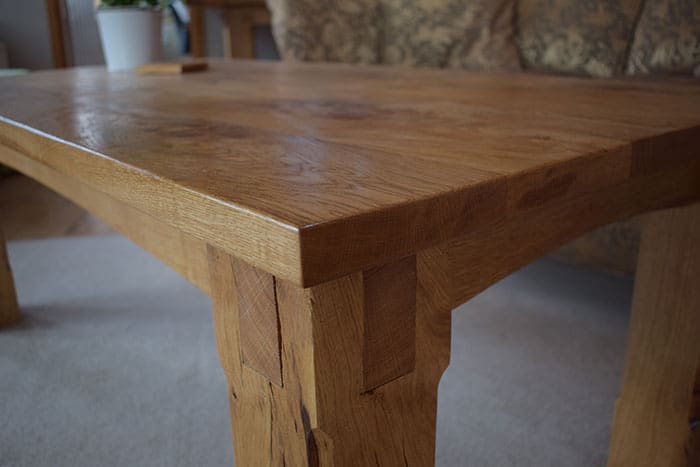 The architectural table base and top are made from solid oak grown in Duchy woodland in Herefordshire, where superb management of  multi aged forestry has continued for several hundred years, producing high quality sawlogs and rich, stable habitats.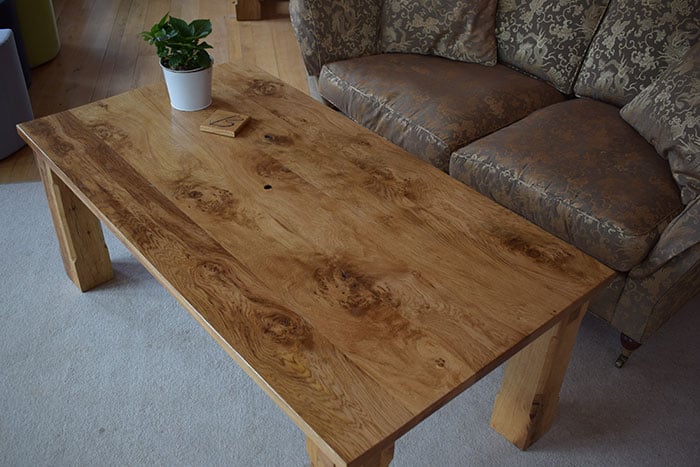 A Limited-Edition Solid Oak Coffee Table that's unique and highly desirable…..
Every wooden table we create is unique, designed by the oak making the most of its natural beauty, keeping waste to a minimum, making the fullest use of this precious resource…..which was once an oak tree and is already around 100 years old.
Table Dimensions
This stunning table sits at 78cm wide, 148cm long and 56cm high.
Fast, Convenient Delivery
Delivery can be arranged at an additional cost, please call or email us for full details.
Get in touch
To own this truly unique oak coffee table today then please call us on 01666 504436 or email hello@timberpride.co.uk
TESTIMONIALS
Reputation is everything and our work is quality.
Debbie Chard – Obvious Expertise
"Timberpride provided an excellent service, combining a friendly approach with obvious expertise. They were able to advise on products & met our requirements at a competitive price."
Shaun – Highly Recommended
"We have used Timberpride on many occasions, they can get what we need in whatever size we need it, which many timber suppliers fail to do. We highly recommend them."
Dawn Wilson – Tremendous Customer Service
"I had the pleasure of dealing with your company on Friday when I was trying to locate two small pieces of oak for decorative purposes. Whilst I imagine in the grand scheme of things, this was a small order, the help and customer support I got from your colleague Sarah was tremendous, even arranging for the wood to be left at an alternative location for collection to suit me. I would like to pass on my thanks, it was a pleasure to deal with such a customer driven business."
Paul Large – Quick Turnaround
"Just a quick thank you to you and your team for the quick turnaround on the oak that was supplied. The timber was just as requested and was of a good quality. We will be using you again soon. Many thanks."
Terry Stevenson – Helpful & Professional
I found Timberpride very helpful with the design of my garden room.  The construction was very good, we were impressed.  I would like to thank all of the operatives for a very professional service throughout. Stevenson Building Contractors
A true Cotswold experience and well worth a small premium for the excellent service
"I just wanted to say a big thank you for all your help with designing and delivering on time the lovely oak A-frame for my coach house. Everything went extremely well and to plan, including personal delivery of some of the oak from Alec, the owner and his son. In this day and age of online sales and aggressive pricing it's a great experience to be able to walk into your lovely oak offices, meet the owner, take a look behind the scenes and at your oak waiting to be hand crafted into your designs. It's a true Cotswold experience and well worth the small premium for the excellent service and to be able to engage first hand with all the processes." Bob Davison