When you're looking to extend your home into the garden, or create a space for work or play, oak outbuildings create a perfect opportunity to add an additional room without the hassle and challenges. But what are the rules and regulations when it comes to constructing one? From size limits to eaves and roof height, there is plenty to consider for a successful build.
What are the Building Regulations for Outbuildings?
Thankfully, over the last few years building regulations have eased for those who want to construct an outbuilding. The updated regulations mean that homeowners that want to build an outdoor shelter, outbuilding, summer house or office, will not usually need to apply for planning permission. But it is worth noting that there are some exceptions to bear in mind.
Have the Rules Changed?
The latest rules that state if you can extend or add to your home without the need to apply for planning permission came into action on the 1st of October 2008. The new limits mainly apply to the size of the proposed addition, where it's positioned in relation to the house and how close it is to the boundaries of the main property.
Is There a Size Limit for Outbuildings without Planning Permission?
Whilst it is possible to construct an outbuilding without planning permission, there are still some requirements that you need to match regarding size. This includes the necessity for the outbuilding to occupy no more than 50% of the space around your home. You also need to make sure that the total floor area isn't beyond 15 square metres – however, if you're building in an Area of Outstanding Natural Beauty or a Conservation Area this is capped at 10 square metres.
As for the eaves, these should not be higher than 2.5 metres and the building overall has to be a single-storey construction with a total height of 3 metres. Another caveat is if the outbuilding is placed within 2 metres of the main building then this is lowered to a maximum of 2.5 metres.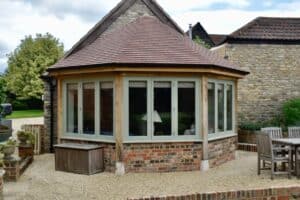 Can you Build an Outbuilding Under Permitted Development?
If you're planning to construct an outbuilding to the side or back of your home within a permitted development, in most cases you won't need to worry about planning permission. This fits within the rules of the build taking up 50% or less of the outdoor space, being ancillary to the main building, but not being deemed as a separate dwelling. In the case of building near a fence, it can't be any higher than 2.5 metres if within 2 metres. It's also wise to research your local legislation if erecting near to a neighbour's boundary.
If you're building an outhouse further than 2 metres away from the fence then it can be as tall as 4 metres, but if it doesn't have an apex roof it can be no higher than 3 metres, or no taller than 2.5 metres with eaves regardless of the style of roof. Do note that land in Conservation Areas will need planning permission in general.
Eaves and Roof Height
As for eaves, these shouldn't be any taller than the existing height of the eaves on your home and the roof ridge line. If your outbuilding is set to be within two meters of your property, then the eaves shouldn't go beyond 3 meters in order to be permitted as a development.
Outbuilding Finishing
We all want our outbuilding to look stylish and in keeping with the rest of our exterior design, but how you implement this could be the difference between success and failure in an application.
Decorative architectural assets such as crestings which run along the roof's ridge, and finials which sit at the front of the apex, could cause some issues in your application so ensure to read what periods of architecture are passable. Keep it simple with a plan that matches your current planning rules as this could save you time and money when avoiding a possible rejection which will then have to be revised.
Limits and Restrictions
From permitted development rights to size and height limits, there are restrictions to bear in mind to protect the rights of your neighbours and the local environment. Think about the materials you're using and whether you'll need proper draining installed as well as water and electricity – where is this supply going to come from and are there extra factors you need to include in your permitted development application? Keep an eye on local planning authorities as they may have variations or additional requirements for your area.
To Sum Up
Outbuildings are a wonderful addition to any home or piece of land and can open up plenty of opportunities for use when adhering to the right outbuilding regulations. They can also add value to your home too.
Our sustainable hand-crafted oak frames are tailor-made to your requirements using the finest materials whilst keeping sustainability and habitat conservation at the heart of Timberpride. Our professional and highly knowledgeable team can assist and guide you with the development of your outbuilding to produce successful results all around and a stunning addition to your property.