Stunning Oak Frame Garden Rooms and Oak Conservatories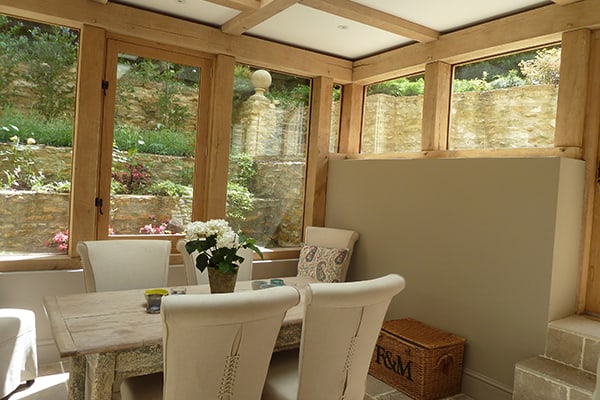 Start your project today with Timberpride and let us create you a beautifully made Oak Conservatory or Garden Room, giving you extra space in your home that basks in natural sunlight. Made with ethically sourced Oak your investment will be a sound, responsible choice.
Why Choose Timberpride for Your Dream Project?
Our skilled craftsmen are highly experienced in working with Oak and we have designed and built many superior oak conservatories and garden rooms that has delighted our clients. From our state-of-the-art oak mill, in the heart of the Cotswolds, we work to your exact tailor made specifications and to tight deadlines too, if time is of the essence. Quality control throughout our whole process is extremely important to us but we also ensure we offer competitive pricing on everything we produce.
If you have any questions or want to take the next step to start your dream project then call us on 01666 504 436 or email us on hello@timberpride.co.uk and we will delighted to offer you assistance or a quote without obligation.
Alternatively read on below or visit our gallery
Add the Wow Factor to your Home
The beauty of an Oak Conservatory will transform the look of your property, a modern addition handmade in a naturally durable material.  Oak structures are chamelic as they can look crisp and contemporary or complementary to 20th Century builds or rustic and charming as Heritage properties as with time the oak naturally silvers blending into its surroundings.
The might of the Oak frame, the charm of curved braces, pegs protruding form joints and natural whole life energy consumption qualities of Oak marrying seamlessly with walls of glass whispering elegance and style.  By day an awe-inspiring extension by night gentle lighting creates a warm, inviting space you just want to occupy.
You may use your Garden Room or Conservatory as a Dining Room, Lounge or Kitchen, it may be a grand Orangery or a smaller Satsumery just to relax in.
However, you choose to live with your conservatory or garden room, Timberpride can design and create a space to suit your lifestyle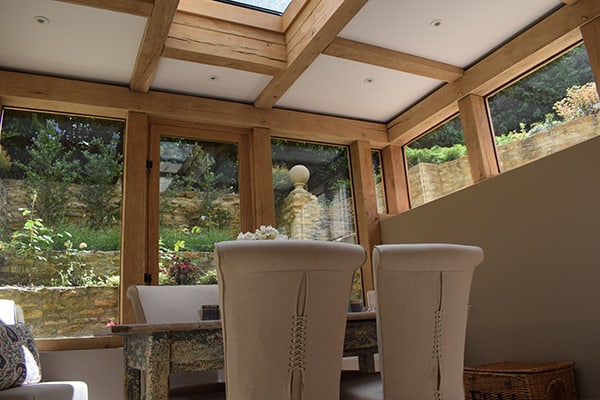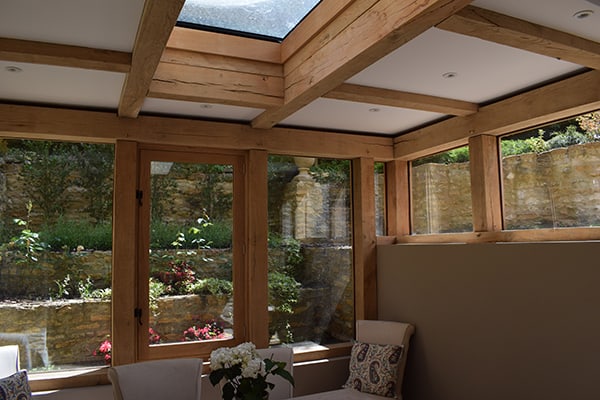 Oak is the culmination of millions of years of evolution
Our philosophy is to create Oak structures which are honest, incorporating structurally sound knots and splits the majority of the forest harvest exhibits; maximising yield from this precious natural resource is our responsibility not allowing perfectly good timber to be wasted for the pursuit of fashionably perceived perfection.
At Timberpride we celebrate the reality of Oak, embrace its idiosyncrasies and love it for what it is……
Quality handmade Oak Frame Garden Rooms and Conservatories, made in British Oak selected in the forest and milled to size by our skilled craftsmen here in Tetbury.
Timberpride is Living Oak…..
Call 01666 504436 or email hello@timberpride.co.uk to talk about your ideas and how to bring them to life.
Contact Us to Get More Advice About Oak
Timberpride Limited, Quercus Road, Tetbury, Gloucestershire. GL8 8GX.
Contact Us to Make your Dreams Come Alive